The Bead Bash is over! The Bead Bash was an event hosted by Beadniks, held in the east rotunda of the Mall of America, as a bead and jewelry show to support the Make-A-Wish Foundation. First off, I'd forgotten how exhausting shows are. Okay, let's be honest, I also forgot how exhausting the prep was. But, I made some sales, I made some new friends, and ran into some old ones and online ones. So, all in all, I'm glad I did it.

That's my table-mate and partner in crime, Julie Libonate, of Burnt Wood Beads
I don't think I did any progress shots of my display as I made it last week, but that's it (finished) in the picture. On the top left is an area for inspiration jewelry designs using lampwork. In the middle top is a slot I built for my tablet so I could show video of the lampworking process. On the top right is an area for simple ready-to-wear lampwork pendant necklaces. In the middle, across the display, is room to display 116 focal beads. At the bottom left and middle is a trough to display items on cards like lampwork earring pairs, lampwork earrings, lampwork headpins, and lampwork buttons. On the bottom right is an area to display ready-to-wear lampwork bracelets or more lampwork bracelet inspiration. In the trays on the table were bead sets.
One of the things Julie and I did at the end of the show today was hand out some swag to the designers who shared the space around us. I was only disappointed that I forgot to grab cards from all of them. I did grab cards from some of them: Robyne Robinson of ROX jewelry, who sat next to me, and is a friendly and talented designer; Heather from Lawrenz Jewelry (and store manager for the Trinket Foundry) whose jewelry just reached out to my soul; Holly and Greg of ISMS who were selling mind-blowingly beautiful resin-set (?) butterfly wings (and might be two of the nicest people on earth), and Sarah from My Olivia Jewelry, who was lucky enough to share the very crowded space behind us. We owe Sarah special thanks for her sense of humor regarding that situation! I think she's now more familiar with my behind than my husband would appreciate. (He always reminds me that I can't be intimate with women unless there are photos.)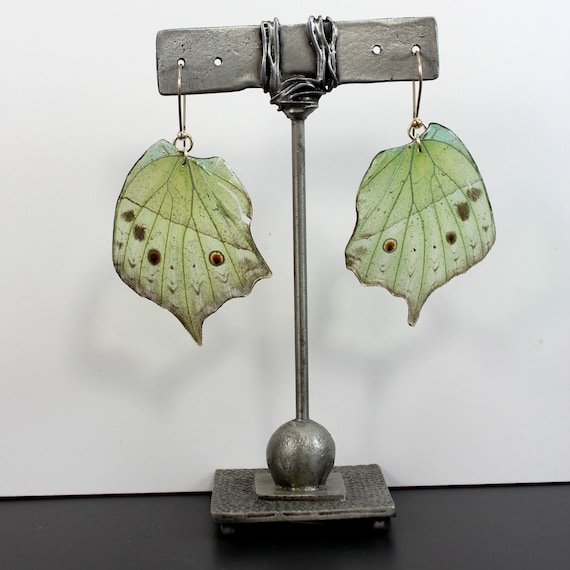 Some of ISMS beautiful work. They explain,"The butterflies used are from conserves working to repopulate endangered species around the world. They sell us butterflies that have died of natural causes to help fund their repopulation efforts."




Some of Heather's amazing work.
I know that some artists believe strongly about not buying the work of other artists (even to the point of not buying supplies made by artisans that also produce finished work). I'm the opposite. I make art because I love art. If I struggle to sell my work, I understand that others have trouble, too. So, if I see something I love, supporting that artist is pretty high on my priority list. So, thank you Heather, for the beautiful, fun earrings. Thank you Holly and Greg, for the awe inspiring butterfly wing pair. They were both very special purchases! I only wish I could have purchased work from more of the artists there!
Since this was the first year of Bead Bash, there were some inevitable opportunities for improvement, like unappealingly small aisles that encouraged shoppers to move on quickly, among other issues. However, I decided that, given the show implements improvements next year, that I'd love to be part of it again. The other artists there were really lovely people and I'm so thankful for the opportunity to meet them. So many of the artists and jewelry-aficionados who stopped by to look at our table were so kind, wonderful to talk to, and made made my day brighter - sale or no sale. So, thank you, all, for making the event great. I think I might have to look into a couple other shows to do this year!
As always, thanks for stopping by!

Julie