When you live in a state like Minnesota you keep an eye on the weather. I don't remember the last time I saw a forecast with a 100% prediction of rain but I saw one today.
For tomorrow.
Tomorrow, during my one-day art show.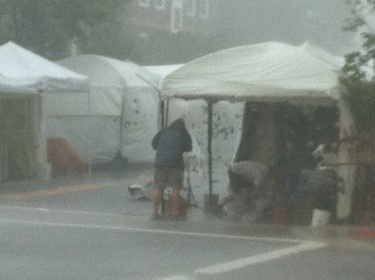 The first and last time I did an outdoor art show, another one-day show when I was first starting out, it rained. There's a reason I haven't done one since. The tent I purchased for that show has long since retired, canvas torn, its decorative corner posts now standing guard over the edges of my garden. Remembering how little I made at that show I find myself balking at purchasing another for fear of not recouping the cost. I've sent desperate e-mails to people that have a canopy I might be able to borrow. But, as I type I can't quite silence the voice in my head murmuring, "I can't believe this is happening again!"
Frustrated.
Now, don't get me wrong. I'm thankful for the opportunity to show my work. I don't intend to skip the show, particularly since I've been promoting it. And I don't go into these things assuming that I'm going to sell a lot. But, I'd like to sell something. It can be hard to fight the negativity when I've already worked myself so hard trying to get ready for this. So, chin up. Stay positive. I'll keep telling myself that ... but I wish I didn't have to. Hopefully, it will be dry ... at least for long enough to take a picture to show you all. I'm excited for you all to see what I've been making! And, when it's not dry, I'll enjoy the smells and sights, the quiet respite, and the company of fellow rain-lovers. Hopefully they'll also love jewelry!
Anyone else have Art Show anxieties or frustrations to share?
Thanks for stopping by!