First there was Christmas, then the New Year along with two amazing shows and several classes mixed in to make my December pretty chaotic. But most of my recent silence has ween wading through three weeks of pneumonia and the utter and complete exhaustion that goes with it.
Needless to say, I've been anxious to find anything to help mix things up.
Whenever I'm in a creative slump with my lampwork or metalwork I usually turn to beadwork. By it's very nature it forces you to slow down and take a breath. You get to wade into a world of color and texture that is, for me, rejuvenating.
I'm not an expert beader. I'm competent at following patterns and can manage designing simple projects, but my lack of mastery has me in awe of beaders like my amazing friend Nancy Dale (wait until you see what I commissioned from her!!) and freeform artists like Karen Williams of Skunk Hill Studio. So I was so very excited to see that Karen is working on a third amazing book, Explorations in Freeform Peyote Beading: Designing Original Art Jewelry and Beyond

The cover mock-up of Karen's book taken from her website
Karen is using Kickstarter to crowdfund her book so that she can take this book to the next level with full bleed printing with full color illustrations and twice as much information as she's been able to include in her previous two books. I've already made my pledge. If you're a beader, I wanted you to know that this opportunity is out there. Karen is offering some great rewards including public acknowledgement on her website with a pledge of $1 or more, acknowledgement in the book with a pledge of $10 or more, a digital copy of the book with a pledge of $20, and more!
As of this morning Karen only needs $2855 to fund the book. The deadline is Friday Feb 14, 12:45pm EST.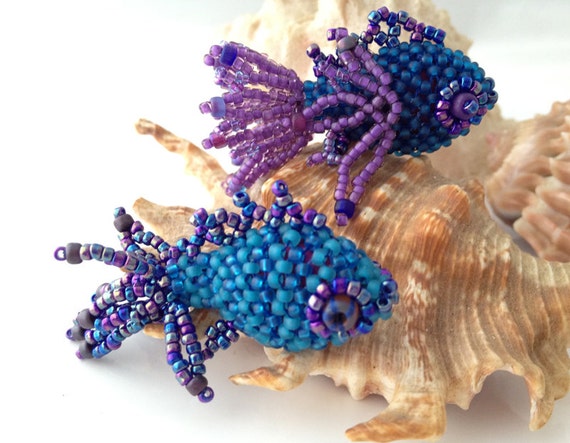 Karen's Beaded Fish Tutorial
While innovation in the arts relies on experimentation, artistic growth depends heavily on shared ideas from masters in their craft, and if beading is an area in which you want to grow, Karen is a great teacher! This Kickstarter campaign is about more than getting a high quality resource delivered to you, it's about taking the time to think about the importance of investing in art education.
Every new thing we learn about creating something with our hands teaches us to better appreciate the complexity and value of everything in the world around us. Doing is not enough. Doing can be done in ignorance. Learning is how we discover what we didn't know we didn't know. This particular book may or may not be for you. But I hope that it inspires you to think about what there is in the art world that you don't know but wish you did. Supporting art and art teachers has a ripple effect that benefits us all in wonderful, far-reaching ways!
You tell me! What has art done for you lately? Think about it!
Thanks for stopping by!