My enthusiasm for creating definitely goes in spurts. I do think it's important to work through that, but there's something about unusual challenges and attention that definitely help spark some motivation!
If you follow my Facebook page, then you know that I had some work published in this month's Soda Lime Times, an online publication about Lampwork beads and artists. Imagine my additional joy when, last week, those beads sold!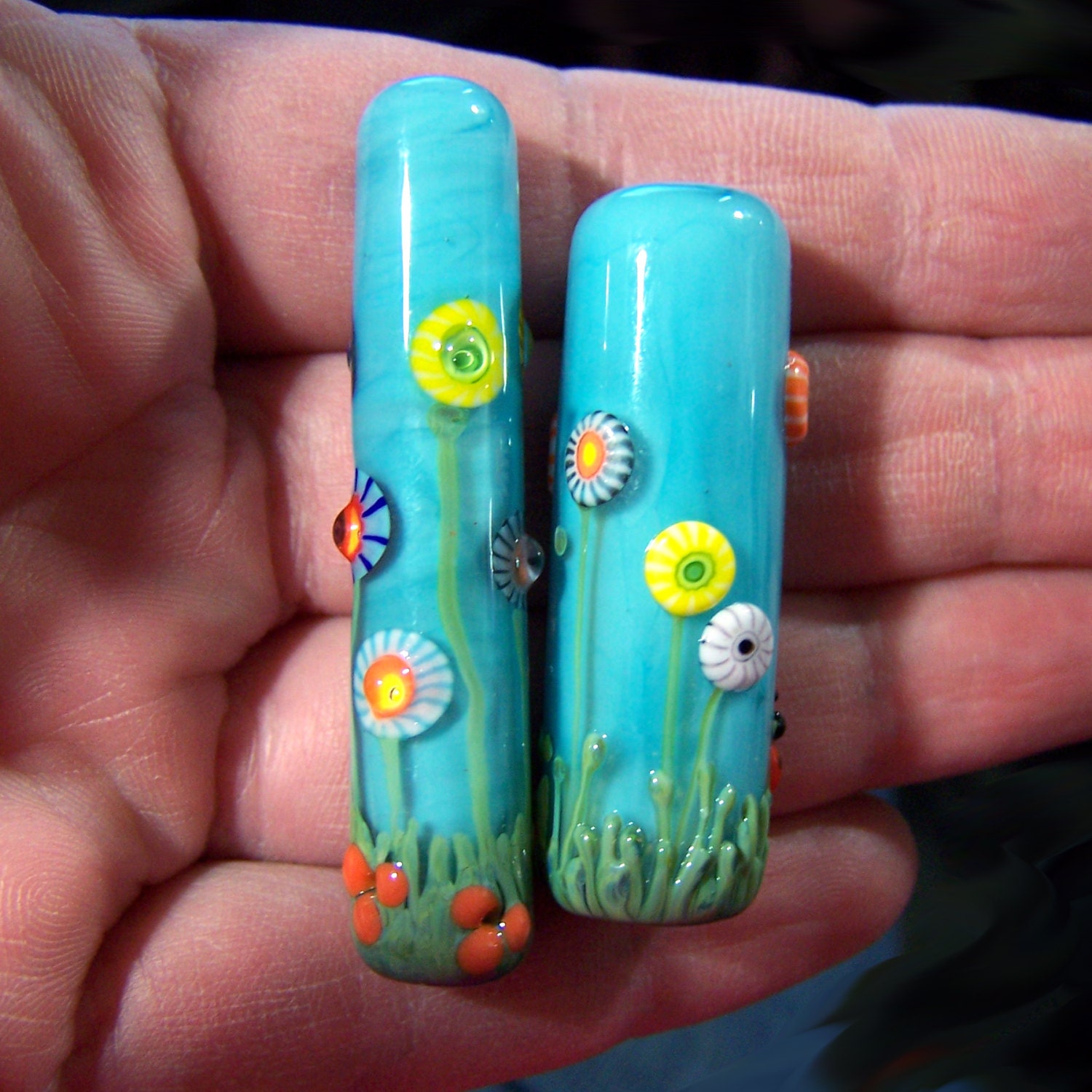 It's actually been a wonderfully unusual month for sales! And I'm thankful to all of you for helping that to happen! Knowing that I have support and, now, some funds to invest in new equipment is truly heartwarming and uplifting! Thank you!
I've also been working on developing some designs for the Fall 2014 issue of Stringing Magazine. I've missed the e-mail pre-submission deadline, but I've got some good ideas that I'll be sending in for the March 17th deadline. I just feel like I have so much to share and that I need to start making a real effort to SHARE! Doubt is nibbling away at me, but I'm excited about the challenge of creating beautiful work that fits the parameters of being made using basic stringing, wireworking, and knotting techniques.
Today my goal is to replenish some of what's been selling in my store, namely spacer sets. I have several strands of borosilicate spacers that are ready to photograph, so hopefully I'll get a good start on that!
Speaking of borosilicate spacers ... I have a set up for auction in a new group on Facebook called Lampwork Beads For Sale where bead artists post auctions for artists and collectors to bid in an environment where we get to know each other better. Click on "Join Group" when you get there and you'll be added to the excitement!
Tomorrow I'm hoping to finish a project that I've been working on with Nancy Dale. Last year I sent her a focal bead and asked her to make something with it. She did and her amazing husband, Sherwood, took over 100 photos for me to look at and use to promote Nancy and my work. I'll be honest when I say it has been overwhelming to go through those photos. I don't think my photography eye is refined enough to appreciate the subtle differences between some of the photos, but I'm nearly done and am SO excited to share with you what Nancy made! I know she has a tutorial for the necklace in the works, so that will be another fun thing to look forward to!
I had the tremendous honor of meeting one of my favorite jewelry metalsmiths during the Holiday Sparkle Mart last December, Brittany Foster, and when she noticed one of my beads I made her take it so she could make something, too. She says the pictures are coming soon! I have no idea what she's made, but I'm beyond excited to share that with you, too, because I know that will also be awesome.

Photo Credit: Brittany M. Foster
So what are you working on? Has anything inspired you lately? Do tell!
Thanks for stopping by!